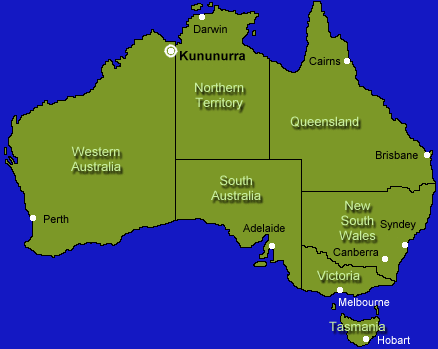 Working in Kununurra
Called the East Kimberley the list of unique landscapes in this amazing part of the world along with the work opportunities
for working holiday makers make this destination a must for any traveller wanting a truly unique
Australian Outback Experience.

KUNUNURRA
Kununurra is a big horticulture area and ideal for travellers looking for a visa extension after 3 month's harvest work. The "Season" starts around May and goes through to November with peak time's being around June/August & October/November. The main crops are melons, pumpkins, sweet corn, mangoes, plus, on-going tree planting. The downside for Kununurra's mangoes harvest is that it happens during the worst time of the year - weather wise - and during what the locals call "the build up", which means that not only does the temperature start to rise but also the humidity. After Xmas when the actual 'Wet' kicks in, its not as bad because you'll get some relief from the rains. Kununurra is certainly in a stunning part of the world, well worth visiting.
For up-to-date info on weather and work conditions E-mail
Please Note: If you are driving into W.A. from the N.T. (or S.A.) DO NOT BRING fruit, vegetables, honey, plants or animals as they WILL BE CONFISCATED at the border Quarantine Checkpoint
EMPLOYMENT AGENCIES

ITEC Employment
Regional Link
Kimberley Industries

Contact Details

(08) 9166 5300
(08) 9169 1998
(08) 91682176 - Web KIGroup

HOSPITALITY in Kununurra

The East Kimberley region is a popular tourist destination from May through to October and there are many hotels, resorts, cafes, cattle stations with tourist facilities etc that require staff. If you speak reasonable english and are interested in working in the region for a minimum of 8 weeks then this type of work is often available.

ACCOMMODATION in Kununurra

There are lots of caravan and camping grounds available along with a couple of good backpacker hostels. Some farms, hotels and other employers have accommodation available for their staff.

MINING in Kununurra

There are several mining enterprises within the east kimberley region and you may be lucky to be around when they are undergoing maintenance work (shut downs). Casual work during shut downs is very well paid and can be available for both guy's and girls. See the employment agents listed above.

SANDELWOOD


Contact Details

(08) 9169 1595
(08) 9168 1008

GRAPEFRUIT (March April May)


Contact Details

MELONS & PUMPKINS

(April-Nov) Mangoes (Sept-Nov)

Contact Details

(08) 9169 1386
(08) 9168 2177
(08) 9168 1613
(08) 9168 1878
(08) 91681216
(08) 9168 1305