Working Hostel in Victoria
If you have a working Hostel in the State of Victoria and would like to be on this site please contact us: Workstay
We have many more Working Hostels on our books please email us at Workstay
it just takes time to add them all thanks.
Working Hostels in Melbourne
If you want to explore Australia like a local, one way is to start working with them. Advice and tips from locals might open up a few doors and you can leave the well trodden tourist path to the tourists.
Try getting a job in one of the many Melbourne backpackers which, aside from putting you in touch with the local staff, is a great way of saving money on accommodation.
In exchange for your help behind reception, cleaning the dorm rooms or perhaps assisting with some office admin, you can get a room for a couple of weeks and perhaps a bit of pocket money depending on how much time you can commit.
Borderline Backpackers
So, You wanna come to Australia and see all the sights and wonders we have to offer?
That's all good and well if you have the money to do it. If you need to earn some excellent money to help finance your adventure you should call in and stay with us. An absolutely fantastic place to work & stay while earning great cash. Only 5 minutes from the Murray River, an excellent place to just kick back and relax on the river and watch those magnificent sunsets, have a beer or go for a swim.
Borderline Backpackers
78 - 80, Seventh Street,
Mildura, Victoria 3500
Phone 03 50230671
Mobile 0429181090
email: vickey@borderlinebackpackers.com
www.borderlinebackpackers.com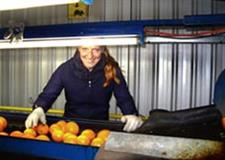 Cambrai Backpackers
We want our international backpackers to feel at home with us at Cambrai Hostel. We will encourage you to discover the "authentic" travel experience and that "been there first" buzz in our undiscovered Gippsland region. Based in Maffra, you can enjoy and explore the treasures of this region, meet the locals and find seasonal employment. Come and share time with the farmers, timber workers and other characters renowned in Australia's regional areas.
Cambrai Backpackers
117 Johnson Street, Maffra,
Victoria 3860
Free Call1800 101 113
Phone 03 5147 1600
Fax 03 5147 3175
email: cambrai@netspace.net.au